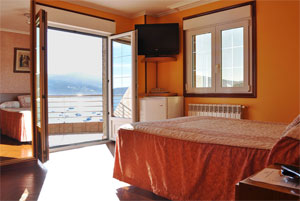 Hostal Residencia Bahia Laxe has been remodeled in 2011.
We are not only a place to rest, but also one of the major points of tourist information of our area. We facilitate routes designed by us and explain them to you each day..
The privileged situation of the Hostel – BAHÍA Residence in the town of Laxe, permits us to offer sights of our beautiful beach, seaport and of the town. The Hostel Bahía is the ideal place to visit our wonderful Costa da Morte.
All of our rooms have bathroom, central heating, TV Canal +,… Some of our rooms (over the same seaport) count with a balcony, "Mini Bar", tables, chairs and loungers.
.